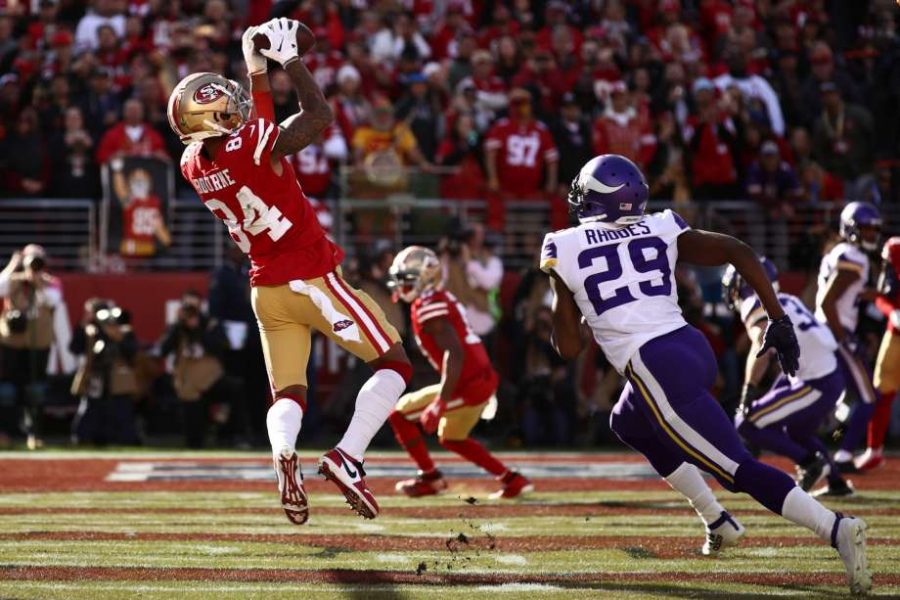 49ers defeat Vikings, move on to NFC Championship
The San Francisco 49ers were one of the most dominant teams in the NFL this season, starting the season on a 5 game win streak before finishing the regular season with a 13-3 record to clinch the NFC West and the #1 seed in the NFC. They've been Super Bowl favorites since their win streak, despite being a team most expected to be mediocre at best before the season started. On Saturday, they proved their dominance when it mattered as they defeated the Minnesota Vikings 27-10 in the first game of the divisional round of the playoffs.
San Francisco drew first blood early, as 49ers' QB Jimmy Garoppolo connected with Kendrick Bourne in the endzone for a 3-yard touchdown, putting the Niners up 7-0. Four minutes later, Minnesota countered. Vikings' wide-receiver Stefon Diggs made a difficult catch to haul in a strong pass, and managed to stay on his feet to run it in for a 41-yard touchdown, making it 7-7.
To open the 2nd quarter scoring, 49ers' Tevin Coleman only needed 1 yard, and he got it to make it a 14-7 San Francisco lead. Minnesota's offense could only counter with a field goal with 30 seconds left in the half, as their offense struggled to make anything happen. San Francisco went in to halftime with a 14-10 lead.
The 2nd half of the game was all 49ers, as Dan Bailey's field goal to end the 1st half for the Vikings would be the last scoring play for Minnesota. San Francisco extended their lead with a field goal, followed by Tevin Coleman's 2nd touchdown of the day, this time a 2-yard rush. The 49ers lead 24-10 after 3 quarters, and would tack on a field goal in the 4th to officially eliminate the Vikings from the playoffs, taking the divisional round 27-10.
For the 49ers, the win marked the franchise's first playoff win in 6 years. For the Vikings, it's yet another season cut short in disappointing fashion.  They made their mistakes, and the Niners capitalized on them. 2 of their turnovers in the 2nd half turned into 10 points for the 49ers.
Now, the 49ers await Sunday's results, to see if they'll play the Green Bay Packers, or the division rival Seattle Seahawks.