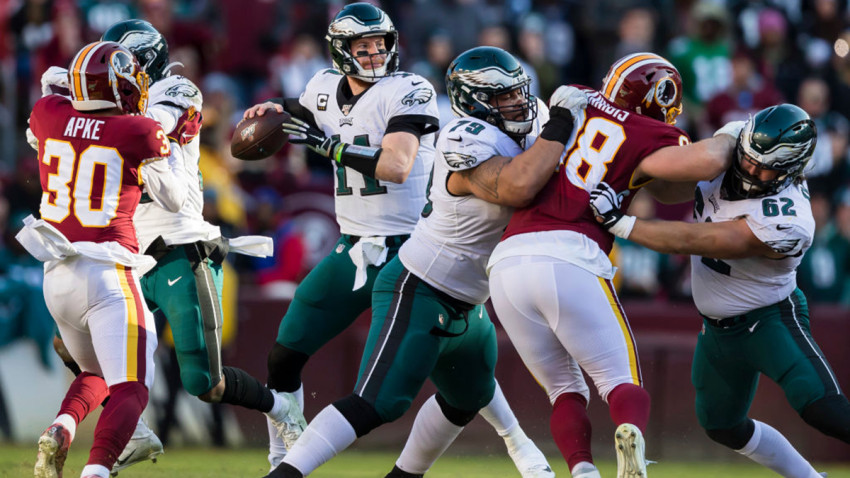 Eagles get last-minute win to keep pace with Cowboys
With 2 weeks left in the season, and the NFC East title hanging in the balance, every snap counts for the Eagles, who still have a legitimate chance at the playoffs despite a brutal season. They managed to pull off a comeback win on Sunday to take down the Redskins and keep pace in the playoff race.
The first half was one to forget for Philly, which has become a common storyline for them this season. The offense continued to struggle, being barely outplayed by Washington, as the Redskins entered halftime with a 14-10 lead. The 3rd quarter was fairly uneventful, with only an Eagles touchdown. The Eagles entered the 4th quarter with a 17-14 lead, but watched that lead evaporate in the 4th. Adrian Peterson scored a Washington touchdown  early in the quarter, making it a 21-17 Washington lead. Philly countered with a Zach Ertz TD to put Philly back on top 24-21. However, Washington was able to nail 2 field goals to put Washington back on top 27-24 as the quarter wound down. With just 0:26 left and the game on the line, Wentz managed to connect with Greg Ward for the go-ahead touchdown, making it a 31-27 Philly lead. In desperation, Washington committed a game-sealing fumble as Nigel Bradham returned it for a touchdown to put the icing on the cake, sealing the Eagles' comeback 37-27 win.
The Eagles improve to 7-7, keeping pace with the Cowboys, who also sit at 7-7 after a blowout win over the Rams. The Eagles and Cowboys will decide the division winner next week as they face-off in their most crucial match up this season.