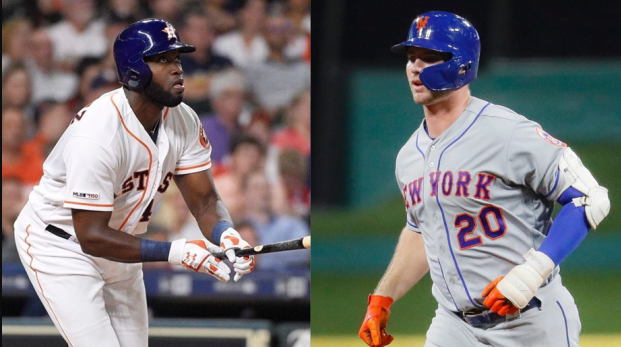 Alvarez & Alonso Headline 2019 Rookie Of The Year Awards
In a game boasting exciting young talent, Yordan Alvarez and Pete Alonso were named the 2019 Rookies of The Year for their respective leagues.
Neither player was hyped-up much previous to their arrival in the big leagues this season, but once they got there, there was no questioning they belonged.
Yordan Alvarez arrived on the scene for the Houston Astros in June. Given his late arrival, he only got to play in 87 games, but that was more than enough time to prove himself as a lethal bat in the Astros' lineup. It didn't take him long, as his first MLB hit was a 2-run homer. In his first 45 games, he set an MLB record with 51 RBI in that span. At age 22, in just those 87 games, Alvarez hit for a .313 average, along with 27 homers. Had he played a whole season at that pace, he could've potentially reached the 50-home-run mark. Alvarez is the only player in American League history to win the award in as few games as 87. Not only that, but he won by way of unanimous voting, only the 11th time in American League history that it's happened.
For the National League, Pete Alonso of the New York Mets slugged his way to the Rookie of The Year honors in dominant fashion, getting the chance to make his debut in Game 1 of the Mets' season. In playing a full season, Alonso crushed his way into the record books, highlighted by setting the MLB rookie record of 53 home runs in a season, previously set by Aaron Judge. Alonso's home run talent got him the nod to participate in the Home Run Derby, which he too promptly won, against the heavily-favored Vladimir Guerrero Jr. Alonso was just 1 vote shy of a unanimous vote, as 1 vote went in favor of the Atlanta Braves' Mike Soroka.