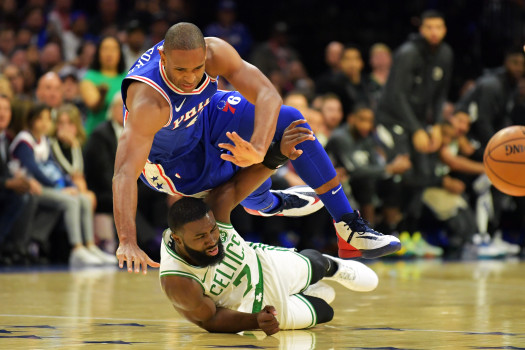 Sixers Take Down Celtics 107-93 In Season Opener
It wasn't pretty by any means, but all that has ever mattered was beating the Boston Celtics. The Sixers did so by a solid margin, knocking off their Eastern Conference rivals 107-93, snapping the Sixers' 5-season Opening Night losing streak.
There are 2 key takeaways from the Sixers' win over the Celtics on opening night: 3-point shooting is an absolute disaster for both teams, and the Sixers' defense has improved significantly. Starting off with the shooting, the Sixers shot an abysmal 7 for 29 from beyond the arc, only slightly worse than the Celtics' 7 for 26 pace. The shooting woes shouldn't be a concern for either team, especially the Sixers, as both teams are still shaking off the rust and trying to establish an offensive rhythm with new additions. For the Celtics, they're still adapting to running the offense through Kemba Walker. Last night was even more difficult for them as the Sixers forced them into fouling, limiting playing time of key components of the Celtics' roster. The Sixers' slow offensive start shouldn't be setting off alarm bells either, as they look to find a rhythm with new additions such as Al Horford and Josh Richardson, alongside previous players in Tobias Harris, Ben Simmons, and Joel Embiid. A bright side to last night was how well the Sixers continued to perform despite limited playing time for Embiid, who spent time on the bench for a bloody lip and nose.
Perhaps the most exciting aspect to the Sixers that was evident on Opening Night was the new defensive presence. The Sixers' defense locked up the Celtics, forcing Boston into 15 turnovers, including 6 steals and 7 blocks. They held Kemba Walker to just 12 points, forcing the Celtics to run the offense through Gordon Hayward and Jayson Tatum. Hayward and Tatum had 21 and 25 points respectively, the highest scorers for the Celtics in the game.
Despite the Sixers struggling to fire on all cylinders on offense, they managed to deliver in a key aspect, out-rebounding the Celtics 62-41, which was huge considering how poorly they shot. Despite the poor shooting, the Sixers took advantage of the 2nd-chance opportunities, which gave them the clear advantage over Boston.
The Sixers were no doubt a little rusty in game 1 of the new season, but they came away with a strong win nonetheless, a testament to the depth of this new squad. The Sixers will go into their next matchup against the Detroit Pistons on Saturday.