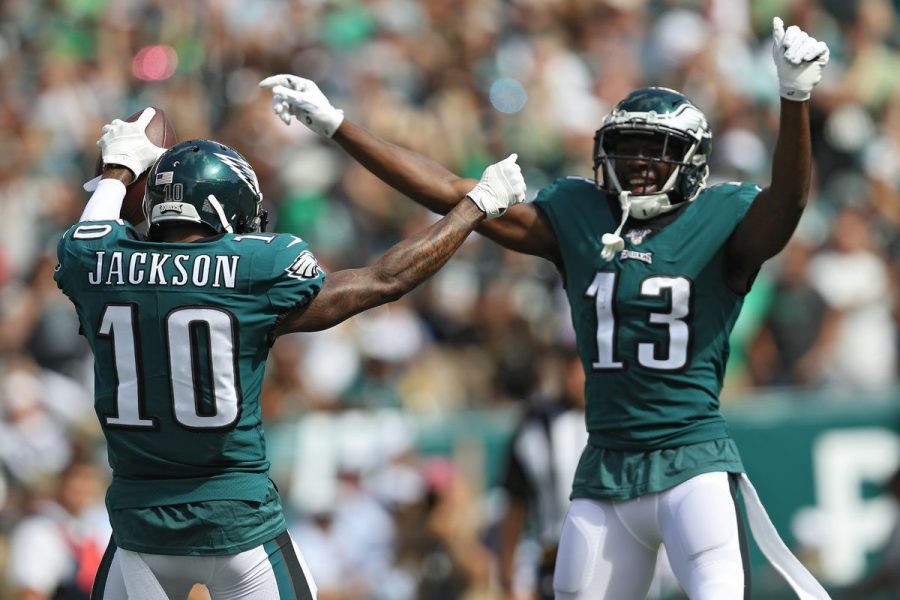 D-Jax Leads Eagles To Comeback Victory
It's officially football season again in South Philadelphia as the Eagles kicked off their 2019-2020 season on Sunday afternoon vs the NFC East rival Washington Redskins. The Eagles were the heavy favorites going into the game, and it showed, although not immediately.
The Birds started off slow, getting shut out by the Redskins in the 1st quarter, as the offense couldn't find any traction. Washington, meanwhile, jumped to a 10-0 lead in the 1st, sparked by a spectacular 48-yard touchdown run by Redskins' Vernon Davis. Washington then made a 41-yard field goal with 2:48 left in the 1st to make it a 10-0 advantage going into the 2nd quarter.
The less-than-ideal situation for the Eagles only seemed to get worse in the 2nd quarter, as the Redskins struck again with a 69-yard passing touchdown by Case Keenum to Terry McLaurin, extending the Redskins' lead to 17-0. The Eagles finally started to show life about 5 minutes later, as Carson Wentz connected with DeSean Jackson for a 51-yard touchdown pass in Jackson's return to Philadelphia. Washington would counter with another field goal to make it 20-7 before halftime, as the Eagles exited the field at halftime to hearty boos from the Philly fans.
After a halftime speech by DeSean Jackson, the Eagles came out of halftime firing, as they struck first on a 5-yard touchdown pass to Alshon Jeffery to make it 20-14. As if DeSean Jackson's 51-yard touchdown in the 2nd wasn't enough, Wentz and D-Jax connected again, this time for a 53-yard touchdown as the Eagles took the 21-20 lead with 5 minutes to go in the 3rd.
The Eagles needed to establish a comfortable lead in the 4th, and they did so quickly, as Alshon Jeffery scored his 2nd touchdown of the day to make it 28-20, just 5 seconds into the final quarter. Philly would tack on another field goal to put the game just out of reach, which nullified the final touchdown by Washington with just 6 seconds left in the game.
The Eagles scored 25 of their 32 points on Sunday in the 2nd half, a strong comeback effort by a team that looked sluggish in the 1st half. Returning Eagle and fan-favorite sparked the comeback effort, tallying 154 yards and 2 touchdowns in his return to Philly. Carson Wentz had a strong showing to open the season, going 28/39 with 313 yards, no interceptions, and 3 passing touchdowns, including 51 and 53 yard lasers to D-Jax. The O-Line held up for Wentz, only allowing 1 sack.
The Eagles look forward to next week's matchup as they travel to Atlanta to take on the Falcons, who fell to the Vikings 28-17 in week 1.