English Trip Leaves Delighted Memories
October 2, 2019
On Monday, 95 students from AP English classes traveled to DeSales University to see the college's production of Tennessee William's award-winning play, The Glass Menagerie.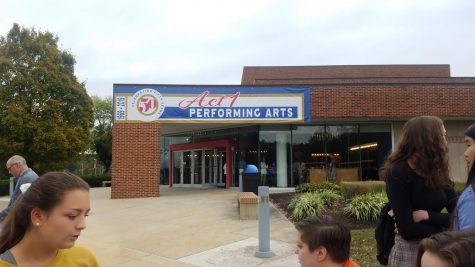 The trip, headed by English teacher Mr. Daniel DiLanzo, is the first English department trip he can remember in his time at BASH.
"I've been here eleven years," Mr. DiLanzo said. "Last year, Mr. Wise took the Writing Center kids to Ursinus, but other than that I don't recall."
Students received the play well, praising it immediately after, as well as in English classes the following day.
"It felt like a victory for me," Mr. DiLanzo said.
The Broadway golden age play takes place in the memory of the narrator, Tom (played by Matthew Smaldone). Through these uncertain and remorseful memories, Tom's life with his mother Amanda (played by Arrianna Daniels), and his sister Laura (played by Courtney Bulger) unfolds in the dimly lit room of their 1930s apartment.
Throughout, conflicts emerge between Tom and Amanda, over Laura's, and subsequently Tom's, future.
Students, such as senior Isabella Montanye, were especially impressed with the acting of the four college students.
"It was amazing," Isabella said. "The way [the mom] was able to portray the humor and anger, the vastness of her character."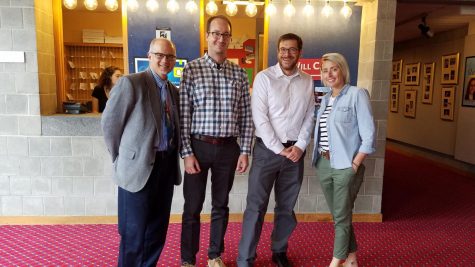 Mr. DiLanzo thought the performance was phenomenal, specifically seeing Tom's complexity in his guilt, anger, and romance, as well as the relationship with his mom.
"The staging was very impressive, and they, I would say, were very nuanced," he said. "In general it was an unbelievable performance, and realizing those were college students really shows how impressive it is."
A key highlight of the play was how well the actors conveyed the characters, Mr. DiLanzo felt. Students were audibly disgusted with Jim (played by Coleman Shu-Tung Gilbert), in awe of Amanda, and appreciated the subtlety of Laura.
"I really enjoyed it for the fact I read it last year," said senior Connor Eagle. "In class, everything has a very serious connotation; in the play, everything was very humorous. It was really interesting to see it translated into a real setting, and to see the characters interact in a more real sense."
Even students who had not read the play before appreciated the complexity.
"You expect everything to go right, but everything goes wrong," said Isabella. "You expect happy endings, but that's not what happens."
Students enjoyed the change of pace, as well as the ability to "put English class into context," as Isabella said.
"I'd say the trip benefited me," Connor said. "In high school, it becomes more rare to go on field trips. Like, AP Psych used to go to a prison or whatever—you see real world application of the skills you're learning and practicing."
Mr. DiLanzo, who had previously never planned a field trip, felt invigorated by how much students loved the play.
"It was all new to me," he said. "So it was more time consuming than if I were to do it in the future."
His long list of responsibilities included filling out a field-trip form, collecting money, figuring out protocol, calculating costs for buses, and coordinating with DeSales University.
Despite this work, he feels more excited than ever.
"It rejuvenated me," he said. "All I want is to teach Tennessee Williams now."
Mr. DiLanzo hopes to make this trip an annual event.
"Not every kid gets an opportunity to see a piece of drama," he said. "Drama is meant to be seen; when you see drama, you feel something."