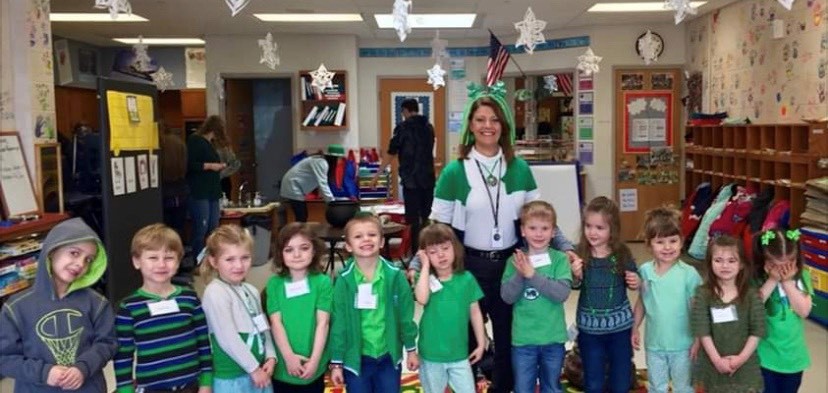 Preschool Director Mrs. Yanusko to Retire
After 20 years of teaching, Mrs. Pam Yanusko, FCS teacher and the Preschool instructor, will retire.
When "Mrs. Y" first arrived as a teacher at BASH, there was a preschool established, but it wasn't the preschool it is today.
"A teacher named Mrs. Betty Fulmer started the preschool in the mid-90's. However, it really was primarily a 'Play School'," she said. "I worked on developing it more into a true preschool and started to align our lessons with PA state teaching standards."
Today, the program is a high school course designed to train students  in the art of running a preschool.   Children between the ages of 3 1/2 and 5 that reside in the Boyertown School District may attend.  The program runs from October through December and again from March though May.  The only cost is a $50.00 non-refundable application fee for each semester.  
Although Mrs. Yanusko has taught two decades of students, her time at BASH has seemed to fly by, she said.
"I am a Boyertown grad and I loved coming back to my alma mater to teach," she said. "When I was at BASH I truly felt I was doing exactly what I was meant to be doing. I always put my all into my job and did develop great relationships with many students and preschoolers."
Assistant principal Mr. Andrew Maoury said Mrs. Yanusko has provided a great opportunity for student to get real-world experience. 
"It hurts to lose her because she's an awesome, positive and helpful teacher with lots of energy," he said. "But I am happy for her and she deserves a good rest."
Mr. Maoury isn't the only one who will miss Mrs. Yanusko.
"She's always smiling and trying to make the best out of every situation," Preschool 3 Junior Lydia Jones said. "Without her, I would have never considered working with younger children."
Although her students will miss her, Mrs. Y is looking forward to retirement.  She plans on spending more time with her grandchildren, traveling, volunteering at her church and eventually get a part time job — once she catches up on sleep.
"I will miss my time here and will always look back with a grateful heart for the opportunity to be here."