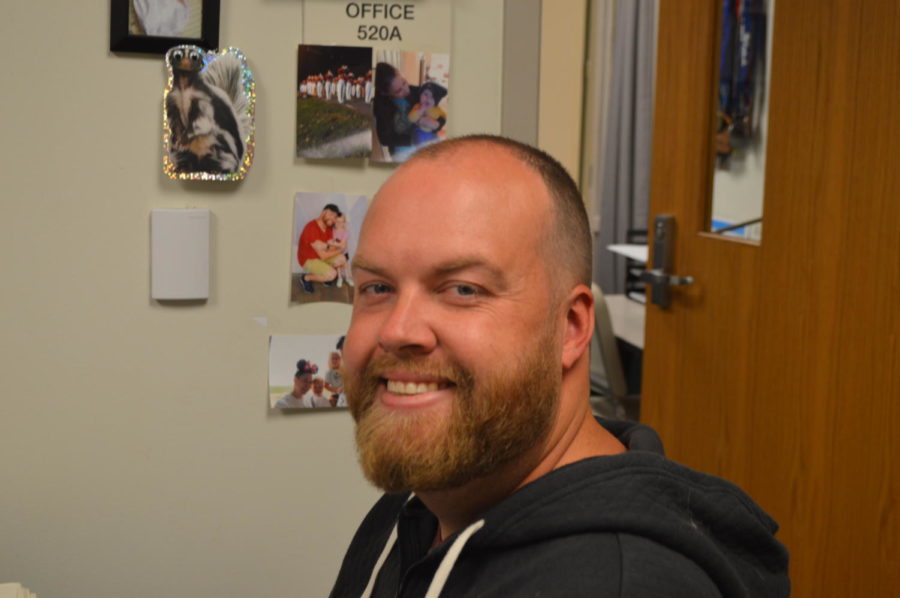 Spotlight on BASH's Band Director: "I'm here to make you world-class people"
If you take a walk down to the music department you'll see the well-known band room and inside will be BASH's band director, Mr. Langdon. Mr. Langdon has been a teacher at BASH for ten years now and has taught many classes including Wind Ensemble, Symphonic Band, Percussion Ensemble, Music Recording, Music Theory 1, and Piano 1&2. He also wanted to teach Composition along with that long list of classes.
All though Mr. Langdon has taught at BASH for ten years, in some ways it doesn't feel like that, "I feel very comfortable here so it felt like I've always been here, but when I realized it had been ten years it surprised me. When you're a band director you have kids for all four years, so the turnover isn't as quick as other teachers, it definitely makes time fly a little bit."   
Before becoming a teacher Mr. Langdon attended West Chester University. He decided around January of his senior year of high school he would major in music. He played instruments in high school but then had to learn so much more when he went off to college. 
"The first instrument that I learned was the trombone, and I still play that today. In high school, I picked up the baritone and had a lot of success with that as well. Then when I went to West Chester the first class I saw was flute class, and as a brass player, it was a bit shocking for me. But we do have to learn all the instruments as a part of being a music teacher, and it was fun to learn all those different instruments."
During college, Mr. Langdon was a big fan of performing, "I actually had a contract with a cruise line to go perform with them, I obviously didn't take it but that was because I fell in love with teaching."
Many teachers at BASH touch students' hearts and make a big difference in their lives and Mr. Langdon is no exception. Senior Lex Freedman whos been taking classes with Mr.Langdon for the past four years now and even took lessons with him two years prior had some touching words to say about her experience, "He's honest and raw with us. We see eye to eye and he treats us with the utmost respect and compassion. He loves what he does and he truly cares about all of us, I wouldn't be who I am without him." 
Mr. Langdon is also our BASH Bands Band Director and has led the BASH Marchig Unit to championships with shows such as Those In Glass Houses (2019), Looped (2021), and now Marie (2022). 
One thing many students don't realize is the amount of work that gets put into these shows, "It's a lot of hours outside the normal school day. We have many practices after school and then we have performances at football games and on Saturdays. But then there's also all this planning that goes on here, the staff and I have a weekly meeting on Sunday evenings. Then there are the hours spent at home just planning out the week and rewriting music and research and thing like that." 
Mr. Langdon has many sayings that have stuck with his students such as "progress over perfection" and "yesterday is past so focus your energy on today." But the saying he stands by most is, "I'm not here to make you world-class musicians, I'm here to make you world-class people."
In the ten years he has worked here he has no doubt accomplished his goal and made all of his students world-class people.