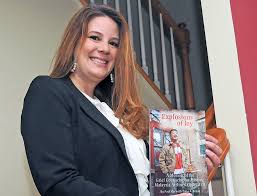 English Teacher is Published Author
Mrs. Trina Kraus only began teaching at Boyertown Area Senior High this fall, when she was hired as an English teacher.
Some might not know she  also just began a career as a published author. Her book, "Explosions of Joy," was published in March, 2017.
The book was co-written with Paul Yin and is a memoir about his experiences as grief counselor for the families of passengers on missing Malaysia Airlines Flight 370. The book has been named a finalist in the Biography category of the International Book Awards.
Mrs. Kraus  met Yin through a mutual friend. The friend met Yin at a coffee shop in China, and Yin told him his story. The friend told Yin he should publish a book.
"He suggested that he write everything down, and … they came to me for help," Mrs. Kraus said. Since she was subbing at the time rather than working full-time, she had free time on her hands, she said, so she agreed to do the project.
The book  took seven months to write.. Having taught English at various schools in Pennsylvania and Washington, D.C., since 2000, Mrs. Kraus said she tackled the book as she would an academic assignment.
"I thought of it as one big student essay, just with 80,000 words," she said.
Even though she enjoyed co-writing the book, Mrs. Kraus decided to pursue a full-time teaching job rather than write full-time after it was published.  
"My heart just belongs in a classroom," she said.
In addition to teaching, she is busy raising two young daughters with her husband, who is a decorated combat veteran. She also has two "naughty cats named Lucky and Rudy", according to her bio on Amazon.com.
She definitely has some real-world stories about writing that she can pass onto her students. Writing a book is a lot more hard work than people think, she said.
"There is so much more involved," she said. "I was surprised. Grammar is a big deal."