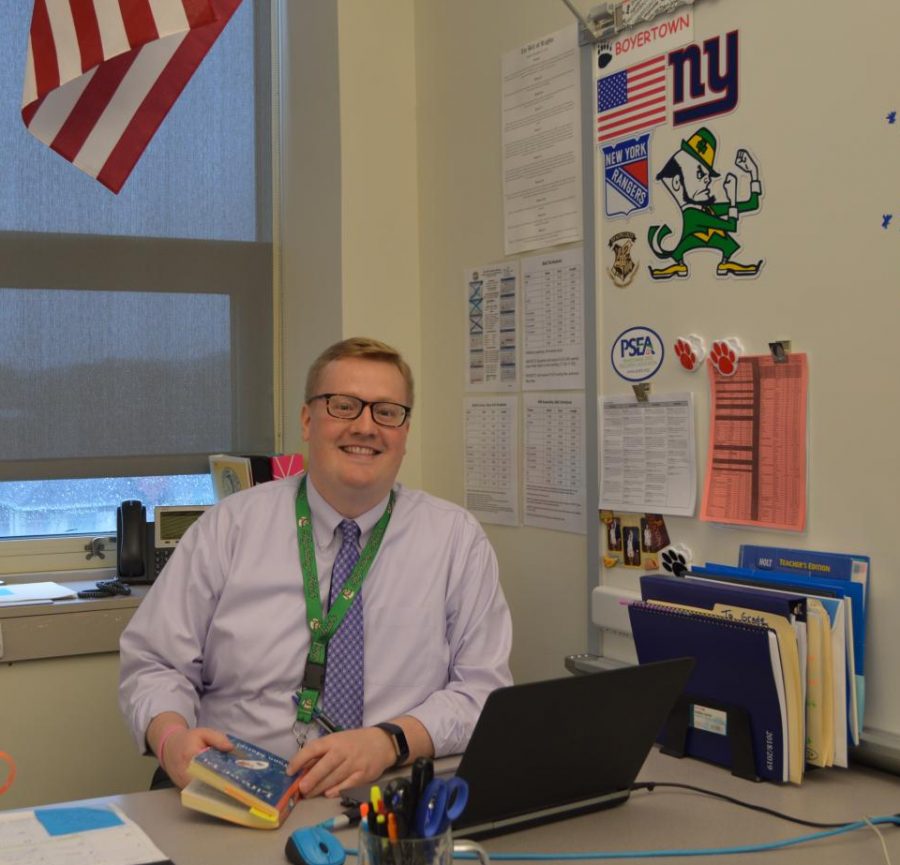 Former Student Teacher Hired to Teach 9th Grade English
Mr. Brendan Dunne is a new ninth grade English teacher. However, he was here before as a student teacher.
A few years before being hired this fall to replace Mr. Scott  Didyoung who retired, he helped teach 11th grade Academic English with English Teacher Ms. Sue O'Brien.  Because of this, Mr. Dunne — who teaches Honors and Academic 9th Grade English — knows his way around the school better than most new teachers.
"I already know the ins and outs of the building a little bit better than somebody coming from the outside would," Mr. Dunne said. "That helped me out a lot."
Mr. Dunne taught 11th grade Academic English and helped with the Cub newspaper as a student teacher. Having been a middle school substitute, he was surprised when the juniors were completely silent. He said he learned how to engage his students from other teachers and by getting to know students one-on-one.
"It was a lot of work, but I felt like I managed my time effectively," he said. "I think I made a good impression, because I'm here now, right? I had a lot of fun, I worked with a lot of good people."
Ms. O'Brien said Mr. Dunne's strength was his patience and ability to connect with students individually.
"He really tried to reach students on a personal level," she said.
Freshman Ellen Dunne (no relation), who has Mr. Dunne for Honors English, said Mr. Dunne seems to respect each student.
"He is a very caring man and cares about what his students are doing in the classroom," she said. "He always looks out for them and makes sure that they are getting their work done."
One way Mr. Dunne connects with students is through sports. He can often be heard talking with students about football before class, which stems from his background as a player and coach.
"I played football and lacrosse growing up," he said. "I basically played every sport growing up."
He went to high school at Southern Lehigh and says it's similar to Boyertown.
"Boyertown is just a much bigger Southern Lehigh," he said.
He was an assistant football coach for the Southern Lehigh junior high team for five years, and also helped with the varsity high school team, along with coaching a 6th-9th grade flag football league team.
"This is my first fall without it in a long time," he said, "so it's a little weird."
After high school, Mr. Dunne went to Kutztown University, where he majored in English and Professional Writing, thinking about becoming a sports writer. He was a journalism intern at Berks Community Television, where he got to cover the Reading Fightin' Phils.
"I feel like I learned a lot of lessons from playing sports and writing about sports," he said.
After the internship, he decided teaching was what he really wanted to do and returned to Kutztown to get his masters in Secondary Education.
"I realized I wanted to teach and coach football for a while so why not just do that?"
Mr. Dunne's favorite part about being an English teacher is collaborating with people and learning new perspectives of literature.
"I might see something one way, and then you might see something another way, and then we talk about it, and then it just completely blows our minds and we're able to just totally see eye to eye, and it's just a whole different dynamic added to the book," he said. "Being a teacher in general is pretty awesome, cause you guys make it fun…I'm happy I'm doing it."