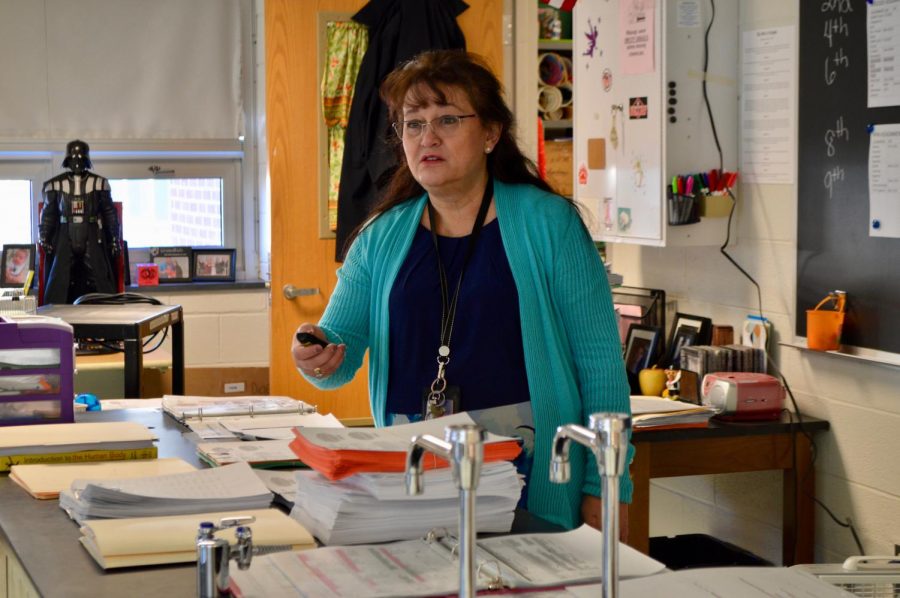 Bonjour, Mrs. Shumock!
Boyertown science teacher has seen the world
Science teacher Mrs. Elizabeth Shumock is known for spontaneously breaking out in French in class, especially when she is mad.
"Sometimes she talks in French, but I don't know what she's saying," said Sophomore Shannon Ludwig, who has Mrs. Shumock for biology.
So where does the French come from?
Mrs. Shumock was born in D'Oleron, France, which is one of the three small islands located below the coast of Normandy. Her father was a Green Beret in the U.S. Army and her mother was French.
The family moved to the U.S. when she was 3 because of her father's military career. His job took them to Kansas, Chicago, Washington State, North Carolina, Germany for a year, then Panama.
During that time, her parents only spoke French around her, and she still speaks French fluently today.
"My parents told me that they only spoke French around me so it would always stick, and it has," she said.
Mrs. Shumock completed high school in North Carolina, where her family moved after her father was killed in Vietnam. After that, she attended UNC-Chapel Hill, earning a business degree with a minor in accounting.
After getting married, she moved to New Jersey and had her first of five children, doing the books for a masonry company.  Ten years later, the family moved to Pennsylvania.
After her children were grown, she decided to go back to school for a bachelor's degree in biology at Kutztown, with the goal of becoming a teacher.
"Originally I had wanted to be a teacher, but I was talked out of it," she said. "Later I decided that is what I really wanted to be doing."
After graduating, she spent half a year teaching in northeast Reading, working as a substitute teacher at a middle school. In 2005, she became a biology and general science teacher here at BASH, and now teaches biology and human physiology and anatomy.
She said she is impressed with how many students here do mission and volunteer work, and how some students have jobs and help support their family. 
"It's a much more compassionate student body [than she has seen elsewhere]," she said. "They're community orientated."
Aside from teaching, she still has a passion for traveling, especially with her children, who got to pick any travel destination after graduating.
She has been to France and England, Italy, and Greece.
"I've gotten to the amazing opportunity to travel the world, and still plan to," she said. "Hopefully I will be returning to France in the future."