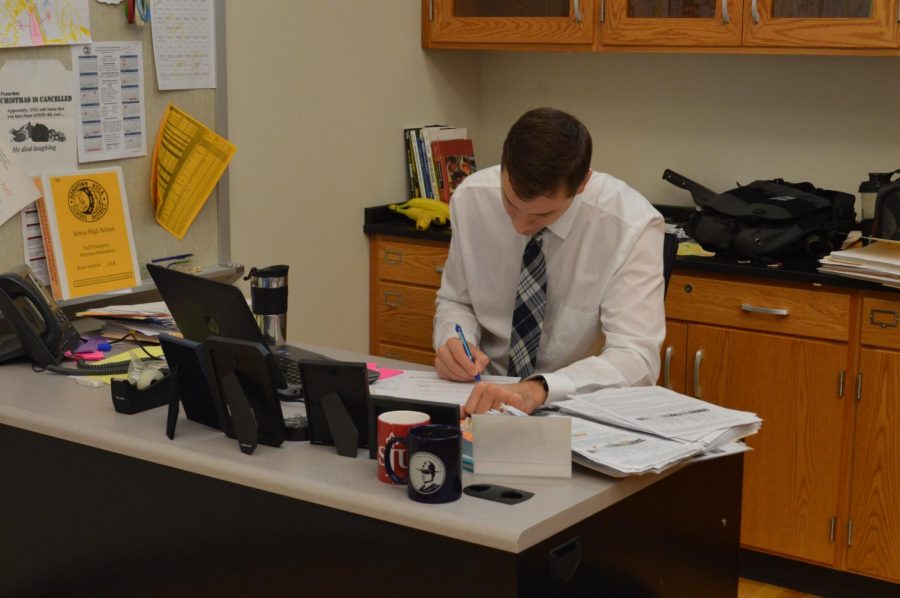 Mr. Podlinski Passionate About Science
New biology and chemistry teacher Mr. Robert Podlinski says he is glad to be back in a science classroom again.
Certified in both math and science, he spent the last five years teaching math at Jim Thorpe Area High School before being hired by BASH this year to teach biology and chemistry.
"I am thrilled to be back teaching science!" he says in the introduction on his teacher web page.
Mr. Podlinski has always been passionate about science.
He was a biology major at the University of Scranton, then he did post-graduate work at St. Joseph University, where he researched shoaling (social) behaviors in local fish, as well as doing a survey of the Wissahickon Creek in Philadelphia.
He had planned to pursue a doctorate but says after he got his master's degree, "I was tired of going to school and not earning any money."
He taught elementary school science in North Philadelphia through a partnership with the Wagner Free Institute of Science and the National Science Foundation. And, 2009-2010, he  taught a combined 7th and 8th grade class at a Catholic school in Jim Thorpe.
Around that time, he also began coursework at East Stroudsburg University for his teaching certificate, which he earned the next year.
"I have been teaching high school ever since," he said.
After teaching for six years at Jim Thorpe High School, Mr. Podlinski applied for the job at BASH, which was close to his home and had a good reputation, he said.
"My friend works in the district, so I was able to get an idea of the academic excellence that already exists," Mr.Podlinski said.
Outside of school Mr.Podlinski has many favorite activities.
"I love spending time with my family," he said. "I have a wonderful wife and a daughter, Charlotte, and two sons, Tripp and Maverick."
He likes being outside.
"I have a large garden and plan on raising chickens in the near future," he said.
He also likes to hunt."Most students are surprised to learn that I love hunting," he said.
He also likes sports, too.
"I am an avid Philly fan," he said. "My wife and I also have season tickets to Penn State football."