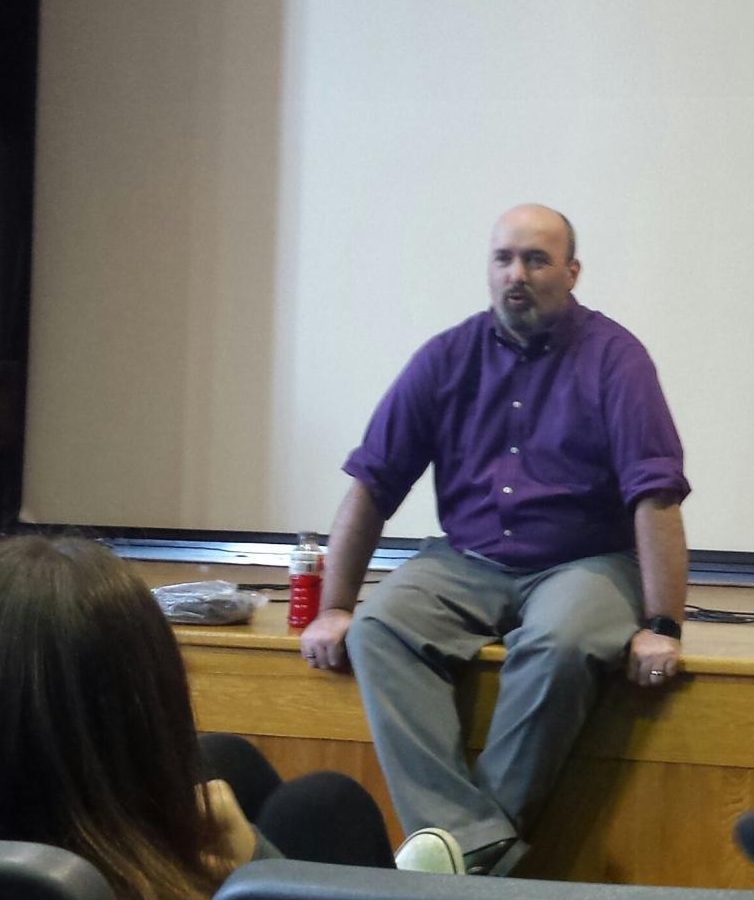 Ramsey Returns
Long-term sub, Stage Crew chief is back at Boyertown.
Mr. Robert Ramsey is a new business teacher this year, but he was already well-known at BASH.
A long-term substitute business teacher during the 2014-15 school year, he also was in charge of Stage Crew. Hired full-time this year to teach Criminal/Civil Law, Entrepreneurship, Word, and Powerpoint Access, he has also reclaimed the helm of Stage Crew Advisor.
Being Stage Crew Advisor is important to him, he said.
"It gives me a chance to see into students' lives out of the classroom," Mr. Ramsey said. "People act different outside of it. It's interesting to see."
Stage Crew Senior Chief Carly Wilson said it is great to have someone with Mr. Ramsey's experience back in charge.
"He's a good guy with a good sense of humor," she said, "kind of bossy."
Boyertown alumnus Dylan Lear asserts that Mr. Ramsey has an easy-going attitude. He got to know Mr. Ramsey when he would go hang out with friends who had him for Flex. Dylan also was in TV News, which works a lot with Stage Crew.
"He's a pretty goofy guy," Dylan said. "He makes a lot of jokes, and he's pretty nice, down-to-earth, relaxed. He's really easy to have a conversation with."
Stage Crew's projects this year include the musical "Snoopy", and it is also preparing for the music trip to Europe.
"We'll have to move and set up equipment in Spain," Carly said. "We'll all be walking at least 10 miles a day."
Excited for the trip, Mr. Ramsey is getting tips from another teacher.
"I wasn't on the trip the last time Stage Crew went, so I'm learning as I go along and Mr. Bleiler is a big help," Mr. Ramsey said. "The night before we go, everyone in Stage Crew will be at school weighing, packing, and tagging all of the instruments."
Last year, Mr. Ramsey taught at Springford, but he feels he has more of a stake in the Boyertown Area School District.
"I live in the Boyertown area, my kids go to school here," Mr. Ramsey said. "There's more of an impact, I feel, if I live here and teach here."
Education runs in his family.
"My wife teaches fifth grade at New Hanover," Mr. Ramsey said. "My son is in 5th grade at New Hanover, and my daughter is in 7th grade at East."
A diabetic cat named Buddy who needs two insulin shots a day rounds out his family.
He said he likes teaching Law because it gets students thinking about how the criminal justice system works.
"It results in interesting conversations around something that affects individuals and affects everyone."
He didn't always want to teach business classes, however.
"Originally I wanted to teach social studies," Mr. Ramsey said. "Then I dropped out of college my first time, during the first semester of junior year, 1999."
He then started a career as a banker. 
"I needed a job, and my wife saw a sign in the bank: 'Hiring, interviews on the spot,'" Mr. Ramsey said.
He went back to college later, in 2008 to get his degree in secondary social studies in 2011 and his masters in 2014.
"Banking gave me the experience to pass the business and Word certification tests."