Mrs. Weber's Furry Friends
Therapy Dogs Make a Difference in Classrooms
October 25, 2016
Some people have reported bear sightings in the hallways.
The bears are actually Art Teacher Mrs. Kathy Weber's Newfoundland therapy dogs, Ellie and Tucker — and rather than scare people like bears would, the dogs' job is to calm people down.
"I guess their job is just being themselves," Mrs. Weber said.
She occasionally brings the dogs hang out with her in art classes, but their main job is with life skills and reading support students, as well as the emotional support classroom. In those classes, Ellie and Tucker go hang out near anyone who they feel needs to calm down, because petting a dog makes people happier and feel more at ease.
"They're very intuitive about which student to go to," Mrs. Weber said. "In Life Skills, if they're kind of loud, they can feel that they're upset."
When she first started bringing the dogs to class, some students would be a little rough and pet them too hard, she said, but they have learned to be kind and more gentle, which really is a valuable life skill.
Students also read to the dogs, and sit next to the dogs while taking a test to reduce stress. Unlike humans, the dogs aren't going the criticize a student's reading skills or tell them that they said something wrong, Mrs. Weber said.
"Generally, when the dogs are sitting next to them, their fluency, their rate [words read in an amount of time] goes up," she said. "I think it's because they feel relaxed, and there's no pressure."
Mrs. Pearson, whose reading class the dogs visit, sees that students "come out of their quiet 'shell' when the dogs arrive to the classroom", and that the dogs "instill a sense of calm in the students and make [them] more confident in their reading abilities".
Mrs. Weber has had Tucker and Ellie since 2008 and 2010, and she trained them mainly on her own to be therapy dogs.
"Tucker went to Canine Good Citizen training classes," Mrs. Weber said. There, she learned how to train the dogs at home.
"In order to become certified therapy dogs, they had to pass a difficult obedience test," she said.
The hardest aspects of the certification test were leaving tempting food alone and behaving without her present, Mrs. Weber said.
Tucker is "a mama's boy, big time," she said. "That was the last part of the test; he failed it the first time. He started crying when I walked away."
But the next time he took it, he was able to be calm with another handler besides her.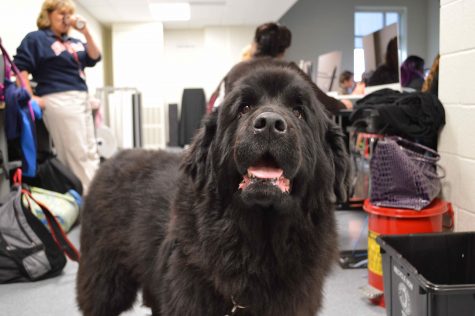 The dogs also had to remain calm around other dogs, equipment, walkers, and loud noises to prove that they were stable, she said.
Although formal classes were helpful, Mrs. Weber said the dogs' best training has been the real life experiences they gain when she takes them in public — anywhere from restaurants to miniature golf. This has taught them to stay calm when they received attention from strangers and to ignore people.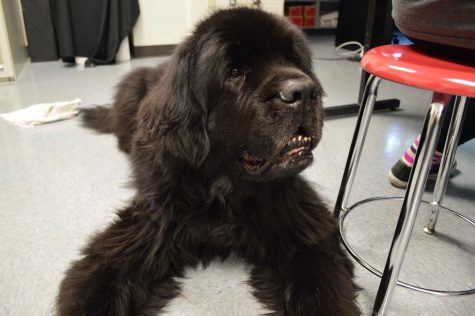 She used to bring the dogs to the adolescent wing of the Reading Hospital, and she said that the dogs would make the kids feel better by being there and interacting with them.
Mrs. Weber is proud of the dogs' good behavior from all the training, because they face challenges that would be very difficult for average dogs.
"We're walking down the hall sometimes and there are mobs of people, and some dogs would freak," she said, "but they just sit, like 'I've been here, I know what I'm doing.'"
The dogs' presence relaxes and cheers up, even when they're off duty, like in art classes, Mrs. Weber said.  
"They're not there to be therapy dogs in my classes, but students seem to be happier," she said. "Somebody will come up every single day and say you made my day."
Mrs. Weber is right, because her art students love the dogs too. Maddi Bowman thinks that they "make the classrooms have a more calm and friendly environment, and if you're having a bad day it's really easy to turn it around by being with either of the dogs."