Wrestling with Life
Senior wrestler Jordan Wood has been a national champion and world runner-up, but his sweetest victory was winning last year's hard-fought state championship.
April 7, 2016
"And your 2015 PIAA state champion at 220 pounds… Jordan Wood!" As I stepped onto the podium in Hershey on March 14, 2015, and heard those words, the weight of the world fell off of my shoulders.
After that 6-minute match 11 years of chasing a dream had finally paid off:
-11 years of practicing takedowns, pinning moves and escapes, 100 times a day.
-11 years of sucking all the water out of my body and only eating lettuce to make weight for each match.
-11 years of daily lifting, sprinting, and running 'till I collapsed.
People may wonder why being a state champ is such a big deal — or why wrestling in general is a big deal. It's just two guys in tight outfits, wearing goofy things things on their heads, trying to roll each other onto their backs, right?
Wrestlers understand the quick-thinking skills, strength and determination that go into each match — and the daily struggles that must be overcome on the long road to victory. They also understand what the gold medal around their neck means. Being a wrestler is one of the most challenging paths an athlete can venture on, but is among the most rewarding as well.
A Rough Start
I have been wrestling since I was 6 years old. My first season, I went 4-18.  I hated wrestling. I would cry on my way to the tournaments, get so nervous about the match that I would throw up, scream and cry during the match because it hurt, then cry after the match because I lost. My parents had always taught me that I need to finish what I started, so they made me finish the year out (which ended with my four-match winning streak and my first Inter-County Wrestling League tournament championship).
Mom and dad told me I did not have to wrestle the next year if I did not want to. But my friends convinced me, and I went out for a second season. My record that year was 12-14 — a little less crying, a little less throwing up, and a little less losing. My feelings toward wrestling went from hatred to "just not a fan", but once again I finished out the season, winning my second ICWL championship.
The next winter when I was 8, my friends convinced me to give it one more year — and I will always be grateful that they did. It all started clicking. I remembered how to execute a single leg maneuver and would be anxious to go to tournaments instead of throwing up from fear. I only lost four matches that year, so I decided to try to go to nationals.
I won the national qualifier and ended up in Salisbury, Maryland, for my 9th birthday on May 1, 2008. Expectations for me were low going into nationals, but I knew I wanted to do well. Three matches later, the Boyertown wrestling family was in shock as I punched my ticket to the national finals.
Long Road to Victory
I faced Ethan Rooney from West York, a city that has bred many a wrestling champion. He had on a black singlet with a diamond on the front of it. He pinned me in the 3rd period. I cried the whole ride home from Maryland. That is where it all really began.
Ever since that tournament, my heart has always drifted towards wrestling. I won states the next year, then went back to Eastern Nationals the following year and got redemption and won the tournament. After winning Eastern Nationals, I followed up with two more state championships before hitting high school.
Once I was a little 14-year-old freshman, all of the youth accomplishments became irrelevant; I was back at the bottom of the totem pole. Expectations and doubts flew around the internet when I made the transition from middle to high school. Half said I was going to make an instant impact, and the other half said I was just a little boy wrestling at a man's weight (220 pounds). A new 14- year- old kid can not hang with a 19-year-old man with a beard and scary muscles. Being the underdog gave me a goal to rise to the occasion.
And I rose. My freshman year, I did what no other Boyertown freshman had done:.
Won a regional title

Medaled at the state tournament

Made it to the state finals
I ended the year 46-2, but I was not satisfied. I lost some sleep over the two losses and wanted to be a state champion more than anything in the world.
I started training the week after the season was over. I made it to the finals of a few national tournaments over the summer, improving in strength and technique and was anxious for the following season. I was determined to be a state champion.
The Agony of Defeat
My sophomore season started off spectacularly. I was the first Boyertown wrestler to win arguably the toughest tournament in the country — Beast of the East. I had a dominating performance where I put together 3 pins and 2 major decisions (winning by 8 or more points) to claim the title, including a win over a competitor ranked Top 5 in the country.
From that tournament, I was on a roll, and was undefeated going into regionals, where a rematch from my freshman regional title was waiting in Mike Boykin, the undefeated wrestler from Coatesville.
He beat me 5-2 in the regional final.
I was crushed that my undefeated season came to an end, but I knew I still could redeem myself the following week. I was going to beat him in the state finals and become a state champion. States came, and we both advanced to the finals relatively easily. Then we went to battle once again, but this time with much more at stake.
He was winning by 1 point with 1 minute left, and we were on our feet. The referee warned him for stalling. He was tired and looked scared. If I got a takedown, I would win. If he got called for stalling again, I would automatically get a point and we would go to overtime. I was so close I could taste it. Then he called injury time because of a hurt ankle, and got to take a break for 2 minutes, regaining his breath. We came back onto the mat, and he finished the match smart as I dove for a shot, and he scored a takedown in the final seconds.
Again, I lost 5-2.
I shook his hand, then walked off of the mat. I found a hallway in the back of the Giant Center in Hershey, put my head in my hands, and sobbed. It felt like all of my dreams for the past nine years had been put right in front of me, and as I went to take them, someone stole them and smashed them into the ground. After a long talk with my dad, he repeated the words I heard the previous year at states — "You will get it next year."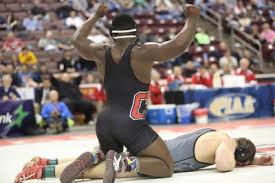 Redemption
So I set out to do it.
Over the summer, I won a national championship and took second at the world championships. I figured if I was second in the world, I should be able to win a state championship. I was ready for my junior season. Then it looked like it would be taken from me.
I tore my labrum — cartilage that keeps the shoulder socket in place — two months before the season started, which would not allow me to wrestle until a week after states. But I was not going to accept that I could not win states another year in a row. Before surgery, I told my parents and the doctor that I would be back to win states.
With rehab every single day and the grace of God, I managed to come back to my junior season two weeks before the post-season. With that, I won sectionals, districts, regionals, and was facing the state championships a third year in a row.
"And your 2015 PIAA state champion at 220 pounds… Jordan Wood!"
Those words represented the previous 11 years of my life.  All of the crying. All of the adversity. All of the starvation and self torture at practice.
Through wrestling, I have learned:
-how to achieve a goal even after failing
-what hard work really is
-how to overcome adversity
-yo be grateful and enjoy the present.
Hearing those words, I also hear, "It was worth it."