In The Lot: Senior Revitalizes 1999 GT Convertible into Dream Car.
April 4, 2016
We've all imagined it; we've all dreamt of it — driving our convertible with the top down on a warm summer day. We all want it, but few ever get to do it for real.
Well, Tyler Bodnar is one of those few.
A senior, he already has his hands on a 1999 Mustang GT Convertible with a V8 engine.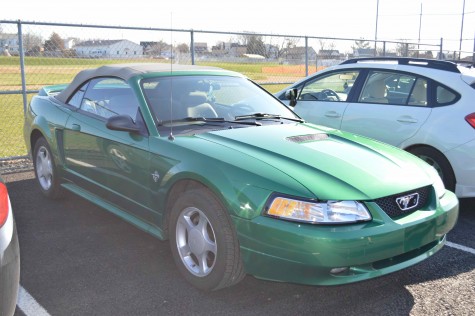 Oh Yeah.
Tyler was searching for the car of his dreams at the start of his junior year, and he found it. Wasn't perfect, but it was there.
"The car initially reeked of incense," he said. And, it was an automatic.
But those are two flaws are easy to overlook once you  finally have the car out on the road, he said.
In order to make his car top notch, some modifications were going to have to happen. First he replaced the intake manifold, then he added a bluetooth stereo head, then a flowmaster exhaust — and, of course, the sequential tail lights.
Tyler said he is plans to put about $1,700 more into the car this summer to get it ready for Mustang Week in Myrtle Beach, SC, and the American Muscle Mustang Show at Maple Grove Raceway in Reading.
After putting in thousands of dollars and working for countless hours, Tyler finally has the car we all envy — a 1999 GT Convertible that we would all love to take for a spin with the top down.