The End of an Era: Eight Years Later
2017 will begin a new phase in Phillies baseball, as young players look to lead the team back to the promised land.
October 15, 2016
"The Philadelphia Phillies are 2008 world champions of baseball!"
Unfortunately, Phillies fans won't be hearing any of those words uttered this season, as the team finished 16 games out of a playoff spot.
The announcer that made that famous call, the late great Harry Kalas, passed away in April 2009, just six months after the World Series win.
As for the manager who led the team to the World Series – he is gone as well.  Charlie Manuel was relieved of his duties as the Phillies skipper in 2013.
Despite the absence of these two icons, Phils fans always had one thing to remind them of that cold October night – the players.
Well, sadly, they are all gone now too.
Ryan Howard, the final player on the Philadelphia roster from 2008, played his final game for the Phils on October 2nd.  The Phillies will not pick up the option on Howard's contract for 2017, and he will become a free agent this offseason.
"It's been fun, man, these last 12 years," Howard said in a ceremony before the game.  "You guys all made it possible."
Howard, arguably the most valuable player to that World Series team, is moving on from Philadelphia, but not baseball.
"I just think there's more I can do in this game," Howard said in an interview with Sports Illustrated.
Howard leaves the Phillies with the franchise records for most home runs hit in a single season (58 in 2006) and most career grand slams (15).
"This city as a whole, man. I want to thank you because I've grown with all of you," he said.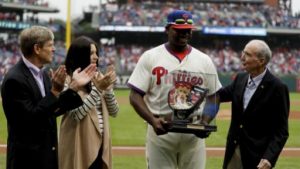 For other former Phillies, there is baseball left to be played.  Three members of the '08 team – second baseman Chase Utley, catcher Carlos Ruiz, and pitcher Joe Blanton – are chasing another World Series ring, but this time, for the Los Angeles Dodgers.
Ruiz was the latest to be added to the Dodger squad, as he was traded to Los Angeles in August.
"I am sad and happy at the same time," Ruiz said in an interview with Philly.com.  "I really love Philadelphia and all of the fans, my teammates, the front office, the organization, everybody. I know I'm going to miss them."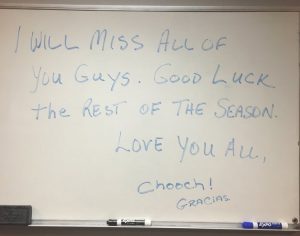 Joe Blanton, who hit an important home run in game four of the series, is in his second stint with L.A., signing a one year contract this past offseason.
All-time Phillies great Chase Utley, the man who celebrated the championship like no other, has played for the Dodgers the last two seasons. A fan favorite, Utley played in Philadelphia for 13 years and was a vital piece to the '08 team.  He hit .292 with 33 home runs and 104 runs batted in that season, including two home runs in the World Series.
Other former Phillies also made it to the postseason this year.  Ace pitcher Cole Hamels, now a Texas Ranger, and outfielder Jayson Werth, now a Washington National, got to play meaningful baseball in October again.  However, they will not have a chance to win the fall classic, as both the Rangers and Nationals were eliminated from this year's playoffs.
Despite Hamels' season being over, there may be one other familiar face Phils fans will still see on the mound this October.  Often-forgotten pitcher J.A. Happ, who was just working his way into the Phillies starting rotation in 2008, is now a star pitcher for the Toronto Blue Jays.  Happ, who is on his fifth team in five years and his second stint with Toronto, has a 3.18 earned run average in 32 starts for the Jays this season.
With no remnants of the '08 team still in Philadelphia, Phillies fans must turn the page and focus on a new chapter in Phillies baseball.  With budding stars such as first baseman Tommy Joseph, outfielder Odubel Herrera and pitcher Aaron Nola, the "phuture" looks bright for the Philadelphia Phillies.
Featured Image Courtesy of Getty Images