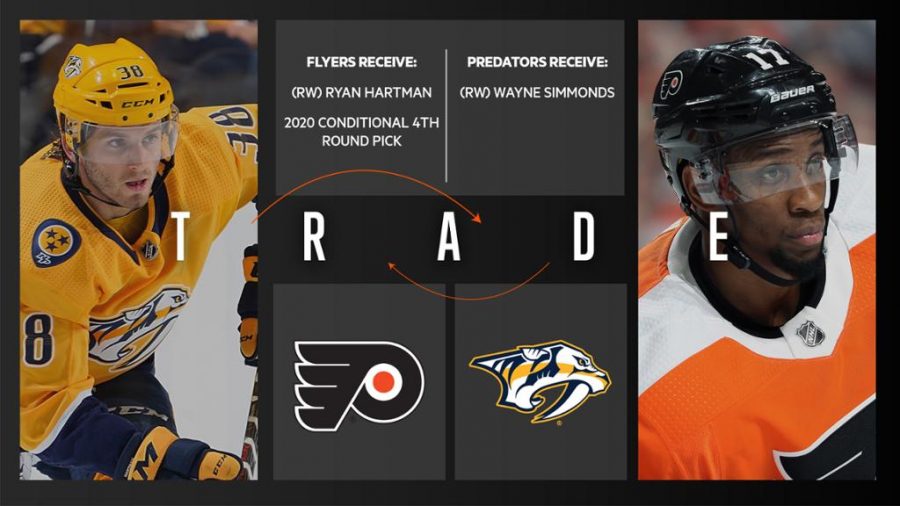 Flyers' Wayne Simmonds Traded To Nashville
An 8-year-long era of Flyers' hockey came to a close on Monday, as the Flyers dealt Wayne Simmonds to the Nashville Predators at the trade deadline for Ryan Hartman and a draft pick.
Wayne Simmonds first joined the Flyers in the 2011-12, scoring 28 goals and 49 points in his first year in Philadelphia. As of his trade on Monday, Simmonds tallied 203 goals and 378 points in a Flyers' jersey.
Simmonds was affectionately dubbed "The Wayne Train" in his time in Philly, as he became the physical face of the Flyers, reminding everyone of the days of the Broad Street Bullies of old.
Surpisingly, Simmonds was only named to 1 All Star game, in the 2015-16 season. In that season, Simmonds matched his career high of 60 points, and set a career high in goals with 32.
The Stadium Series on Saturday was a bittersweet moment for Simmonds and the Flyers, as it was no secret that Simmonds was on the trading block, and the game would likely be his final game in a Flyers jersey. He made it count, despite not scoring, as he brought the physicality he'd always been known for, sparking a wild scrum in the 1st period of the game against the rival Penguins. It's the only fitting send-off for The Wayne Train, as his longtime teammate Claude Giroux won Simmonds' last game in Philadelphia in overtime.
Good luck in Nashville, Simmer.