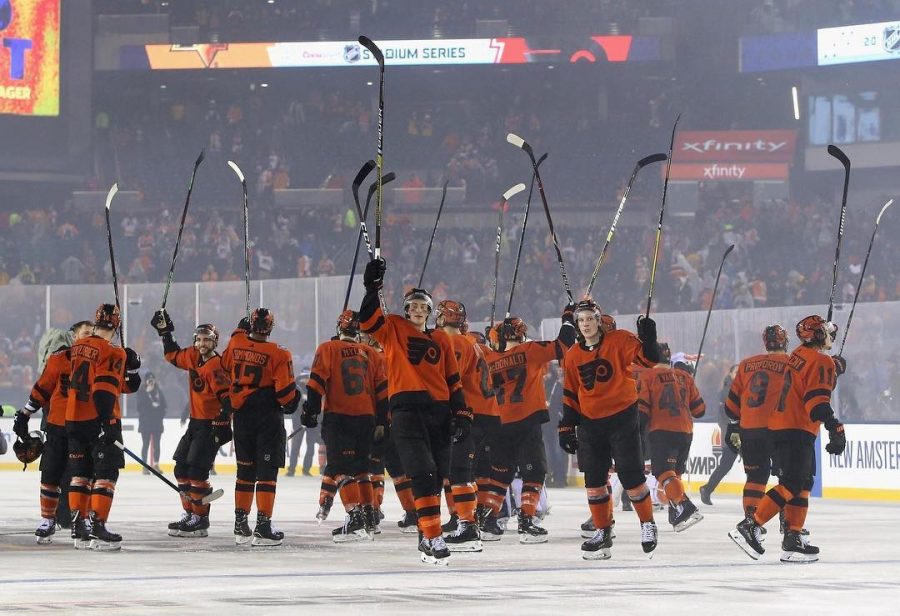 Flyers Pull Off Comeback Win In Stadium Series
Following back-to-back crushing losses, and goalie Carter Hart going down with injury, all hope seemed lost for the Flyers going into arguably their biggest game of the season. But all bets are off in the Stadium Series, playing on the home field of the Philadelphia Eagles, the most iconic underdogs in the last few years.
The game started in a less-than-shocking manner, as Sidney Crosby put the Penguins on the board first. Flyers' Sean Couturier wouldn't have any of it, netting the Flyers' 1st goal of the night to tie it at 1. The highlight of the 1st was easily the classic sign of the Penguins vs Flyers rivalry: dropping the gloves. With a little over 3 minutes left in the 1st, Wayne Simmonds, in likely his last game as a Flyer, slammed Penguins' Brian Dumoulin into the boards, sparking a wild brawl that reminded the world of one thing: these teams hate each other.
The 2nd period wouldn't be an eventful one, as the only scoring came on a Justin Schultz goal to put Pittsburgh up 2-1 heading into the 3rd.
Evgeni Malkin started off the 3rd period by putting the Penguins up 3-1 early in the 3rd. Judging by how the Flyers had played lately, it would've been a reasonable bet to believe the Penguins had this one in the bag.
If you follow sports at all, you know that no 3-1 lead is ever safe.
Nearly 1o minutes after the Penguins went up 3-1, the Flyers finally responded and showed signs of life, with a goal by James van Riemsdyk to make it 3-2. That's when the magic happened. As the clock wound down and ticked to only 20 seconds left, Jakub Voracek netted the game-tying goal, sending the game into overtime and Lincoln Financial Field into a frenzy.
The Flyers couldn't come this far only to fall in overtime. And the Penguins certainly didn't want to blow a 3-1 lead to their interstate rivals in the Stadium Series. But fate was on Philly's side.
1 minute and 59 seconds into overtime, Claude Giroux weaved towards Matt Murray in net, and made an off-balance desperation shot. Murray got a pad on it, but it just wasn't enough, as, seemingly, in slow motion, the puck slid into the net, giving Philadelphia the miraculous comeback win.
Regardless of whether or not Philly makes the playoffs this year, the win in the Stadium Series will be the biggest game of the season. Not only did longtime captain Claude Giroux net the game-winner, but Wayne Simmonds may have made this his final game in a Flyers uniform as the trade deadline nears.