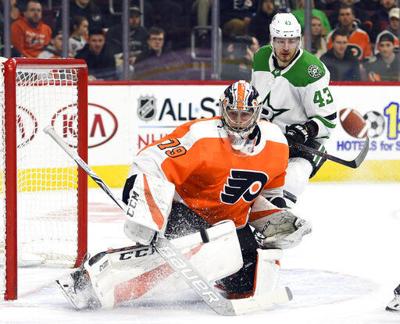 It's been a long time coming for the Flyers, who'd lost 8 straight games coming into Thursday night's game against the Dallas Stars. And as anyone would've guessed, goalie Carter Hart was right in the middle of the win.
Hart put up arguably one of his best starts since his debut earlier this season against Dallas on Thursday. With the Flyers' defense being about as solid as swiss cheese, and the offense constantly struggling to score, all you can hope for is Hart to give the Flyers a fighting chance. Hart did just that and more, stopping 37 shots on goal, only allowing 1 to get past him. That proved to be crucial, as the offense was lackluster again, but it was just enough.
The Flyers' 2 goals came courtesy of Konecny and van Riemsdyk in the 2nd period. Konecny's goal was a thing of beauty, assisted by a backhand, no-look pass from van Riemsdyk, redirected into the net by Konecny, making highlight reels across the league.
The Flyers take Friday night off before taking on the hated rival New Jersey Devils on Saturday.