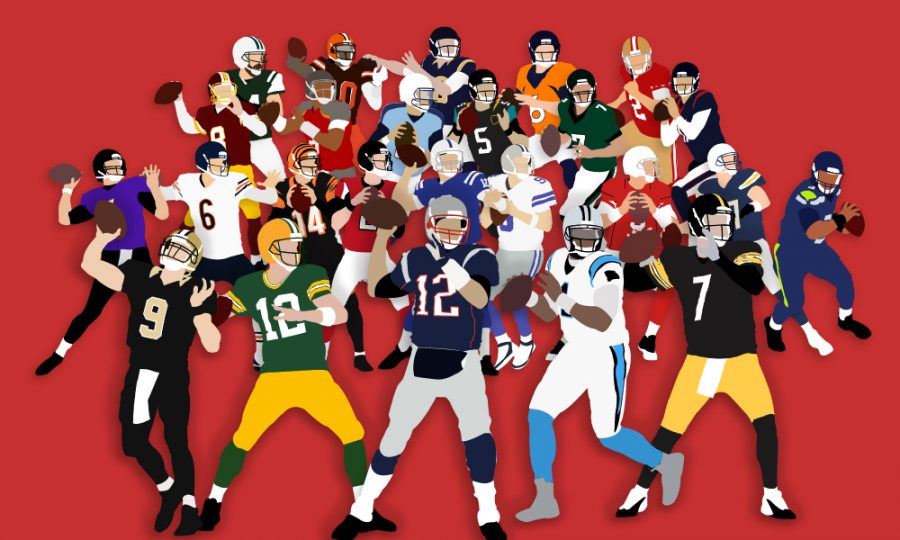 Holden's Top 10 Mid-Season Quarterbacks
10.) Cam Newton
Cam Newton has been the best dual-threat quarterback in recent memory and he has been consistent with his performance this season. In the past, Newton was very inconsistent as every game he had a great chance of succeeding but also a great chance of letting down the organization. Cam has came into his own as he and his team sit atop their division and look to make a playoff run.
9.) Deshaun Watson
Deshaun Watson lit up the league before tearing his ACL last year and he is starting to look like the quarterback we once saw. Watson tossed 5 TDs in a home win against the Miami Dolphins and he made it look easy. Clemson Tigers Head Coach, Dabo Swinney's, Michael Jordan comparisons may have been an overstatement, but he is the franchise and the future of the Houston Texans as they look to win now, and in the future.
8.) Aaron Rodgers
One of the most elite quarterbacks in the history of the NFL but is he having a down year? No. A-Rod just needs some more help from his defense and run game then they are a championship team. Rodgers can do it all offensively and if you asked him to, he may even play corner better than his fellow teammates. Rodger's 13-1 TD-INT ratio is something to watch as turning over the ball can cost you games… cough … cough … Ty Montgomery … cough.
7.) Andrew Luck
Luck has quietly put up out standing numbers with little to no help as he has accumulated 23 TD's, the closest to bound-to-be MVP Patrick Mahomes II. He has led his team to 3 wins this season as he is the heart and sole of the Colts organization.
6.) Phillip Rivers
Imagine Rivers with Saquon Barkley and Phillip Rivers. He could possibly be a top 5 quarterback of all time even after his prime. Rivers is still a great starting quarterback with his gunslinger of an arm and sneaky, but old, elusiveness. Rivers wants to win now as his NFL years may be coming to an end in 2 or 3 years.
5.) Jared Goff
As #1 overall pick in 2016, he has lived to his full potential in coach Sean McVay's high-powered offense. He has made average wide recievers look better than what they are with his tight spiral and deadly accuracy. His completion percentage is above average and his team in undefeated. What else can you ask from your franchise quarterback?
4.) Carson Wentz
Eagles QB is only in his 3rd year and he would have won the MVP contest if it wasn't for his torn ACL last year against the Rams. Wentz is a top tier dual threat QB that can make your defense look silly. The Eagles may be sitting at 4-4 but Wentz always gives you a chance against any team in the NFL.
3.) Tom Brady
The "Goat" has been bvery productive this season as there was early worry coming into the season that Brady would slow down along with his offense, but that wasn't the case. Brady has beaten one of the most elite teams in recent memory in the Kansas City Chiefs and coming off a bye week looks to diminish Aaron Rodgers and the Green Bay Packers.
2.) Drew Brees
The most yards thrown by a single human in the world is a record held by no other but Drew Brees. Brees and the Saints sit atop the NFC South with Carolina right on their tail. Brees always gives his team a chance to win as they have won 5 straight after their week 1 disappointment. Brees has been efficient all season and his eyes are on a Super Bowl.
1.) Patrick Mahomes
26 Touchdowns! The rookie is almost averaging 4 touchdowns a game as he is taking the league by storm. Coach Andy Reid took Mahomes in the 2017 and let him learn under veteran QB Alex Smith, who is now with the Redskins sitting 5-2. Mahomes is sitting at 7-1 as a starter this season and he is the unanimous mid-season MVP.