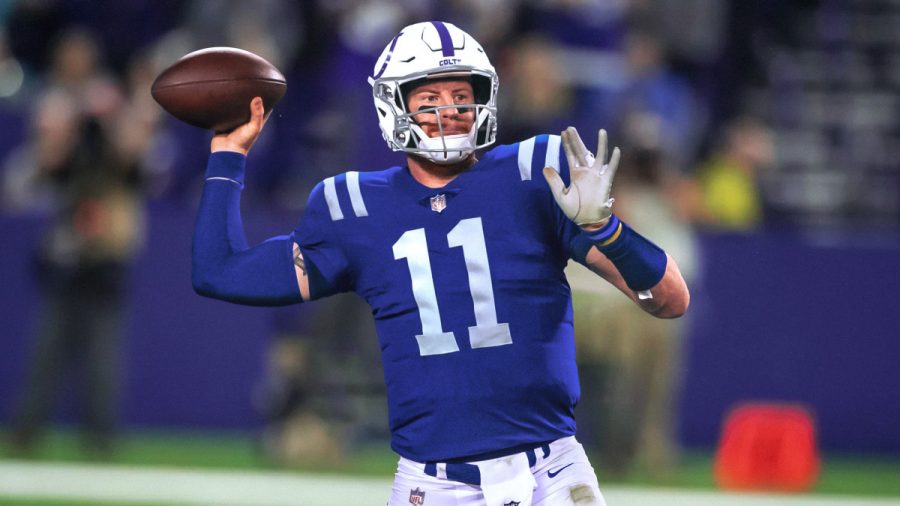 Big news for Philadelphia Eagles fans: Starting quarterback, Carson Wentz, has been traded to the Indianapolis Colts for a third round pick and a 2022 second round pick that could turn into a first rounder. The relationship between the Eagles and Wentz had been slowly crumbling throughout the 2020 season eventually leaving Philly with having to deal Wentz to Indy. It most likely all started during the second round of the 2020 NFL draft, when the Eagles surprised everyone and drafted quarterback Jalen Hurts. It appeared Wentz was never a fan of this decision, and the pressure of the rookie QB sitting behind him, got to him all season long. Carson had an awful regression eventually leading to his, as well as head coach Doug Pederson's, departures from the city of Philly.
Carson Wentz was drafted second overall in the 2016 NFL draft out of North Dakota State University by the Philadelphia Eagles who traded up to select him. He had a solid rookie season, passing for 3,782 yards, 16 touchdowns, and 14 interceptions. Philly finished with a 7-9 record that year. 2017, however, was undeniably Wentz's best season. He tossed 33 touchdowns to just seven interceptions, and was on his way to an MVP season, when he torn his ACL in Week 14, ending his season. Philly still finished with an impressive 13-3 record, and backup QB Nick Foles won them the Super Bowl defeating Tom Brady and the Patriots. The team declined in 2018, but still pulled out nine wins, three of which coming in the last three weeks, after Wentz suffered yet another season ending injury in Week 14, and Foles got them back to the playoffs, but this time fell to the Saints in the divisional round. Philly got hit with injuries during the 2019 season, especially at wide receiver, but despite that, Wentz got the team to a 9-7 record. He got knocked out of their playoff game against the Seahawks in the Wild Card round, where they wound up losing. Then the serious trouble started. Carson's 2020 season was possibly the worst regression of a QB ever. Wentz passed for just 2,620 yards, and just sixteen TDs to fifteen INTs before getting benched after Week 13 in favor of rookie QB Jalen Hurts. The Eagles finished with a 4-11-1 record. To Wentz's defense, the team was hit hard with injuries, areas such as the offensive line and receivers were bad, and Pederson's play calling was poor as well. But Hurts was able to come in and outplay Wentz, thus leading to Carson's eventual departure.
Following the 2020 season, it was not clear if Philly wanted to keep Wentz to try and fix him, or would rather trade him and develop Hurts. Doug Pederson was soon fired after the awful season, and the team hired Colts' offensive coordinator, Nick Sirianni. This hiring basically stated that the Eagles wanted to keep Wentz, as Sirianni was under Colts' head coach Frank Reich, who was formally with the Eagles, most notably during Wentz's 2017 season. and a good relationship with the quarterback. The hopes were that Sirianni had adopted some of Reich's coaching and would help Wentz bounce back. Unfortunately, Wentz had been unhappy with the organization for awhile at this point and even this hiring couldn't change his mind that he wanted out of this dysfunctional organization.
The Chicago Bears, a quarterback needy team, and the Colts, obviously with Reich, were the top two landing spots for Wentz. The Eagles wanted a similar trade package to what the Lions got for Matt Stafford, but due to Wentz's poor play, no team was willing to offer that much. Finally, Philly accepted the Colts' offer, and Wentz officially became an Indianapolis Colt, and will reunite with Frank Reich.
How will this trade affect both teams and their QBs? 
For Carson Wentz himself, it was one of the best teams he could've gone to. Reuniting with his old offensive coordinator in Reich, who he got along with very well is his new HC. He will now be playing behind one of the NFL's best offensive lines, has a great running game with Jonathan Taylor and Nyheim Hines, and one of the leagues best defenses to help him out. Not to mention, he won't be in the position he was in Philly with Hurts right behind him, and that stress plus what Foles did prior, hurt his performance this past season. As for Indy, they have a QB who has shown he is capable of playing at a high level, but the question is if he can retain that form, or will he continue his poor play. This is also the Colts' fifth different starting QB in the past five years. To be honest, the Eagles are a mess right now. They fired Doug and hired Nick hoping to convince Wentz to stay. He did not, and that screwed those moves up. Looking at Jalen Hurts, he needs work, and Philly did say they will be bringing in another quarterback to compete with Hurts. It was even said they were interested in potentially drafting a QB a sixth overall to compete with Hurts, which personally I think is not smart to do. Get Hurts some help with that pick. We all witnessed what happened last time they took a QB early in the draft.
It was later revealed that Wentz and Pederson at one point did not speak to each other for about eight to ten weeks. This especially expressed how bad the twos' relationship was. It seemed getting rid of one of them was the right move, but both are now gone, and Philly appears to be completely lost. Indy, meanwhile, has high hopes that Wentz can turn it around with their well run organization, good all around team pieces, and Frank Reich. If he can return to his 2017 form, Indy may be looing at a Super Bowl run.