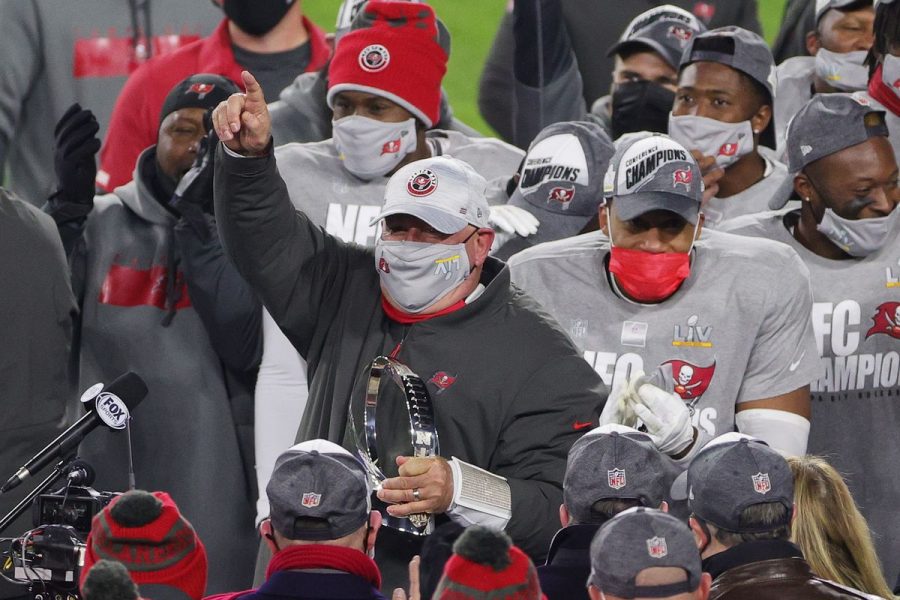 The Tampa Bay Buccaneers are going to the Super Bowl for the first time since 2003! In Tom Brady's first year in Tampa and the NFC, he takes the Bucs to his TENTH Super Bowl appearance, and looks to grab his seventh SB title. In the battle of the bays, Green Bay and Tampa, in Brady and Rodgers' first ever playoff matchup, the Packers failed to capitalize on given opportunities, and were unable to take revenge for getting destroyed by Tampa in Week 6, and Tom Brady, Rob Gronkowski, Mike Evans, Bruce Arians, and the rest are Super Bowl bound.
Quarter 1: Early on, Brady hits wide receiver Mike Evans deep, as he gets to about the Packers' 30. He then looks to Evans again, and they connect for a touchdown. 7-0 Bucs. Tampa gets the ball back, and end up in a third & fourteen situation. Brady throws to wide receiver Chris Godwin at the line of scrimmage, and with some great blocking, picks up the first down. Brady soon after gets sacked, ending that drive. Rodgers gets backed into his own endzone, and on third & fifteen, he throws on the run, and wide receiver Allen Lazard, makes the grab for the first.
Quarter 2: Aaron Rodgers looks deep down the sideline, and drops in a dime to wide receiver Marquez Valdes-Scantling (MVS), who takes it the rest of the way for the touchdown. Tie game 7-7. Tampa responds with Brady throwing deep from his own 20, and with the defensive back looking like he's in a great position to intercept the ball, Godwin somehow makes the leaping catch to about Green Bay's 20-yard line. Runningback Leonard Fournette, whose been excellent in the playoffs, gets over some linemen, pulls a nasty spin move on a defender, and rolls over some more Packers and into the endzone. 14-7 Bucs. Green Bay's runningback, Aaron Jones, gets tossed to, and picks up a big gain. The Packers cannot get into the endzone this time, and Mason Crosby kicks a 24-yard field goal. Bucs lead 14-10. Green Bay stops Tampa, and Lazard makes a middle of the field grab and picks up 23 yards. With around thirty seconds left in the half, Rodgers takes a sack, and then throws an interception to cornerback Sean Murphy-Bunting. Now with eight seconds left, Brady goes for it all and wide receiver Scotty Miller makes the catch for the touchdown. Bucs lead 21-10 at the half.
Quarter 3: Aaron Jones gets hit hard, and fumbles the football. Linebacker Devin White scoops it up, and brings it inside the ten. Tight end Cameron Brate catches a wide open pass in the endzone. 28-10 Bucs. Green Bay puts together a good drive, and tight end Robert Tonyan, makes the scoring catch. 28-17 Bucs. Brady overthrows his intended receiver, Mike Evans, and it is intercepted by safety Adrian Amos. A.J. Dillon, the rookie runningback, and runningback Jamal Williams, help get Green Bay into the redzone, where Rodgers throws a quick pass to wide receiver Davante Adams for the touchdown. They go for two, but wide receiver Equanimeous St. Brown drops the pass. 28-23 Bucs.
Quarter 4: Brady overthrows Evans once again, and it is once again intercepted, this time by cornerback Jaire Alexander. The Packers fail to capitalize, and go three & out after the turnover. Brady gets pressured, and makes the bad decision of just heaving the ball up, once again targeting Evans, and it gets intercepted by Alexander once again. Another opportunity wasted as the Packers' offense cannot get any points off that turnover as well. Rob Gronkowski, on the tight end screen, picks up the first down, and plenty more yardage. Ryan Succop hits a 46-yarder. 31-23 Bucs. MVS makes another clutch catch, this time down the middle of the field into Tampa territory. Rodgers opted not to attempt to run the ball into the endzone twice despite having wide open fields in front of him, and on fourth & goal, head coach Matt LaFleur opts to kick a 26-yard field goal instead of believing in Rodgers to score a TD. Bucs lead 31-26. A debatable holding call is thrown against Green Bay, but they still were unable to stop the Bucs, who pick up enough first downs to win the NFC Conference Championship game. Buccaneers win 31-26.
A big congratulations to the Tampa Bay Buccaneers for making it all the way to the Super Bowl. Not only did they accomplish this in Tom Brady's first year with them, this is the first time in NFL history that a team will host a Super Bowl as it is being held in Tampa Bay this year. Despite not having guys like Antonio Brown and Antoine Winfield Jr, the Bucs still came out on top. Brady completed 20 passes for 280 yards three TDs and three INTs. Fournette rushed for 55 yards, and Godwin racked up110 receiving yards. Most people believed the Packers were the best team to keep Brady from reaching the Super Bowl again, but they could just not get it done. They were unable to capitalize off of two of three INTs and cornerback Kevin King was not fully healthy and should not have played. Rodgers completed 33 passes for 346 yards, and three TDs to one INT. Jones had just 27 rushing yards after two fumbles and getting knocked out of the game. MVS had a great personal game with 115 receiving yards. Jaire Alexander had two picks as well. Aaron Rodgers post-game stated that he is uncertain about his future, hinting at a possible end as a Packer. Meanwhile, 43 year old Tom Brady, and the Tampa Bay Bucs head home to take on the reigning Super Bowl champion Chiefs.