Wish Week Spreads the Holiday Spirit
Wish Week is in full swing and, as usual, students have come up with savvy and creative wishes — ranging from extra credit, to food, to wishes so weird they can't be categorized.
"The most common wish this year was definitely extra credit, with over 200 wishes," Student Council member and Head Elf Zoe Longacre said. "The second was chocolate chip cookies, or cookies in general."
Some of the more wild wishes this year included a gold spray-painted tomato, 100 silverware packets from the cafeteria, a frog, "Rick-Rolling" the entire school, or a Fortnite dance competition.
"Sadly, although these wishes are hilarious and great, we can't grant all of them for obvious reasons," Zoe said.
One of last year's favorite wishes made an encore appearance again this year, as Garrett Witherington followed Brian Martignetti around the school with his saxophone.
At the end of the Wish Week, no matter how crazy or redundant the wishes, Student Council members always enjoy getting to host such a unique event.
"There's that sense of satisfaction when you walk in the room and see that person's eyes light up," Junior Student Council member Tommy O'Donnell said.
Zoe agreed, saying she enjoys going around the school in Christmas outfits and delivering things that people really want.
"It makes me so happy to make other people happy and that is what wish week is all about."
About the Contributor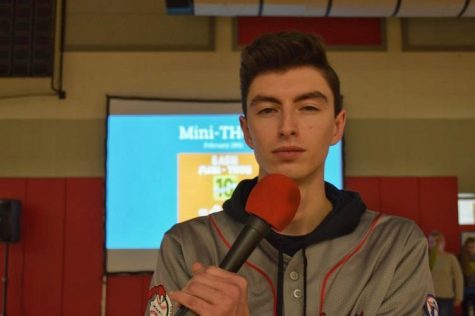 PJ Riddell, Sports Editor
PJ Riddell is a senior at BASH and a Sports Editor. He will be majoring in Broadcasting and Media Production at Messiah University beginning in fall 2020,...