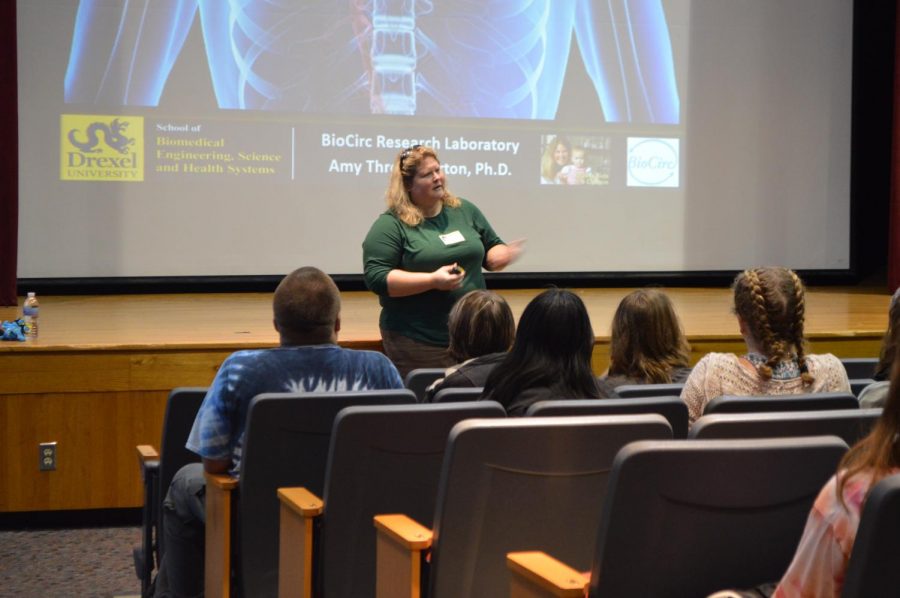 Students learned about a career in biochemical engineering a few weeks ago when a prominent researcher spoke at BASH.
Dr. Amy Throckmorton gave a presentation during Flex and third period. An associate professor at Drexel  University and Director of its BioCirc Research Laboratory, she started her own company, Dragon Hearts for Kids, that makes heart pumps for children with heart defects.
Her advice to students was to keep stepping back to look for opportunities that will help them get where they need to go.
She did just that as a student. Originally from Virginia Beach, she said she wanted to be a doctor. "There was no such thing as a biochemical-engineer," she said.
However, when she found out about engineering, she boldly switched majors. "I decided not to go to medical school, I decided to work in industry."
She used money earned from her engineering job to pay for graduate school to pursue a PhD.
"I realized I wanted to be a professor," she said.
While working toward her doctorate, she did more than 4,000 hours of volunteer work in a six year period that led to her starting her company making heart pumps for children.
"I got to work side by side with a pediatric surgeon," she said.
She explains what she does now as "bench-to-bedside research" because as soon as a pump is made, it is tested for use on patients. Dr. Throckmorton has three patents, two patents pending, and four disclosures.
Living her dream, Dr. Throckmorton is helping students pursue theirs. Her company, sponsored by Drexel University, allows students at the college help make the heart pumps.
"Pay it forward," she said, "and just try to be impactful."