From creativity to cash
How one student is planning to profit off her art.
Generation Z is well-dubbed "Gen Tech," known for their remarkably digital formative years and their resourcefulness when it comes to that technology.
Art, in all its many forms, is increasingly becoming digital, and senior Paige Wenhold is capitalizing on her artistic and technical skills.
"Graphics, I started in 10th grade, because I realized that my medium kind of sucked in drawing and painting, and I still wanted to be involved in art, in something I can make a living out of," she said.
Paige, who has been practicing art for quite a long time, is set to launch an online store by the name of 'Goose Graphics' on Redbubble—a place where users can upload their own designs and sell them as stickers, t-shirts, and other common household items. She wants to get her art "out there."
"I want to create a portfolio so I can sell my art and be more productive," she said. "Normally I'm just drawing pictures for myself or for my friends, but I could make art for other people."
Her life has revolved around art for a long time, with inspiration coming from her family.
"I've always been into it and my family's always been into it, so I wanted to continue that, but in my own way," she said. "My uncle was into art, but he had a hard time making a living off of it. I want to do what he did, but be more efficient."
She has taken many different art classes throughout her schooling, even doing the mural at Junior High West, but her digital medium was almost an accident.
"I actually got put into a graphics class, it was one of my second choices," Paige said. "I thought I wasn't going to like it. But I did end up liking it, and then I joined TSA."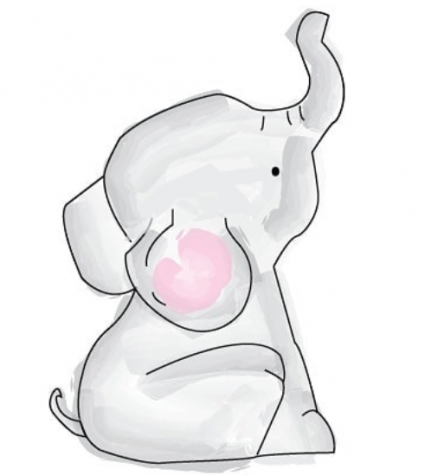 Finding her way to technology was slightly arduous, beginning with Stage Crew and flourishing with TSA.
"When I was little, I didn't think that I would go into a STEM or anything like that," she said. "But once I joined Stage Crew, I started liking it, and then I got shoved into a graphics class, and now I'm here."
She's achieved success within TSA, with her group placing first in States and second in Nationals last year. This year, she has plans for more, participating in the Board Game Design and Promotional Design events.
"Its more thinking outside-of-the-box in TSA, if you don't have a plan when you first start you're going to end up doing the obvious, like 'I'm going to draw a computer,' 'I'm going to draw gears, or a screwdriver,' and after a while it gets really repetitive to the judges. You have to have something to stand out, you have to plan ahead," she said.
What drew her to Redbubble specifically, as opposed to other websites for artists to sell work, was technicality.
"[With Redbubble] I don't have to make it myself," she said. "Etsy, you have to make everything, and I don't know how to make stickers. But Redbubble, you just give them your designs and they take care of shipping and everything is a lot cheaper."
Paige pours her passion into making art with programs such as Adobe Photoshop or Adobe Illustrator.
"I'm usually almost always on Illustrator, it's always a tab just open on my computer because I like to do it in my free time," she said. "I have a Tumblr, I make gifs. I learned how to do a paint splatter effect for no reason, just 'oh, seems interesting, why not.'"
Music is a big inspiration, and another way she expresses herself. Rock music and album covers from more mellow artists as well as artists like Megadeth and Metallica give her a lot of ideas for Redbubble.
"I'm doing a collection of all these guitars, basses, everything, along with band members and simplistic art," Paige said. "I'm recreating the album cover of Damn the Torpedoes by Tom Petty, and I'm going to print it out and put it on my wall."
The name for her store, Goose Graphics, is inspired by her love of 80s music and movies.
"Mr. Pennington always wanted to give me a nickname, and in the movie Top Gun, there's a character named 'Goose,'" she explained. "My best friend's nickname is 'Ducks,' and I actually went onto this "name your store generator," and one said 'Duck Designs.' That wouldn't be perfect for me, but then I made it Goose Graphics."
Art is a part of her future, outside of Redbubble.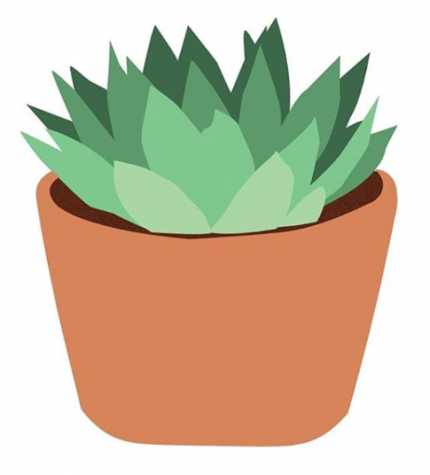 "I'm planning on going to college to study graphic design," Paige said. "My plan right now is to go to MontCo for two years, and transfer to Kutztown [University] or Millersville [University]."
When stuck in a rut, other artists help inspire her.
"I follow a lot of people on Instagram and I like their art, so I'll usually try to pull something from that," she said. "Like with sports, sometimes I'll notice a cool picture and try to recreate it."
Sports has become a bigger and bigger part of her life—and is meshing into her art as well.
"People look at sports and art as two completely different things, so I kind of tried to combine them because I love art but I started a love for sports, and I didn't want to keep them separate," Paige said. "I used to never watch sports, and then one day for some reason I just started."
Redbubble has many choices to sell, including some more outlandish ones such as leggings, bed sheets, and clocks.
"I don't plan to go that crazy," she said. "My designs aren't meant to go on leggings or sheets, so maybe just stickers and photo prints. The craziest I'll probably go is phone cases, but the mark-up is pretty expensive so I don't think I'd ever sell much of it."
As a kid, Paige wanted to be a teacher.
"I mean, it's still possible, I could get a Tech Ed job, but it's probably at the bottom of my list now," she said.
She's planning to open her store either this weekend or the next.
Leave a Comment
About the Contributor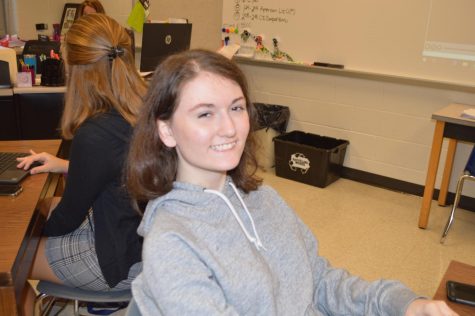 Jocelyn Lear, Editor-in-Chief
Jocelyn is a graduate of BASH. She served three years in the CUB and she previously wrote for the East Observer. She was in many clubs, such as SADD, Stage...